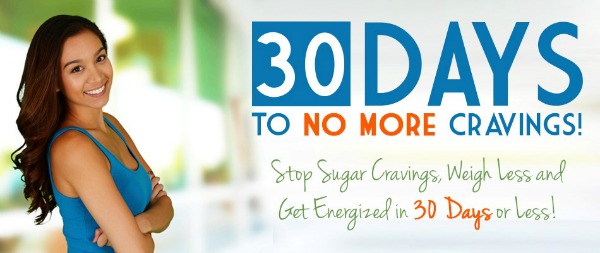 It's that time of year!
Aside from being my favorite (I'm a total weenie!), sugar is everywhere – more so than usual. Now don't get me wrong. I don't demonize any one particular food. Sugar has a purpose, except when it becomes a crutch, as it is for so many people.
If that's you, you're definitely not alone. With the way society is today, so many people are so stressed, if they didn't have sugar to lean on, they'd never make it through the day!
Adrenal exhaustion ensues when your adrenal glands are firing on all cylinders all the time and never catch a break, which results in constant sugar cravings – to give you energy – and keep your body functioning.
The only problem is, if there's one substance in the world that does cause weight gain, it's sugar! Plus, it dulls your skin, ages you, causes belly bloat, wrinkles, is linked to cancer, weakens your immune system, feeds candida, and more!
To counteract sugar's harmful effects, I created a 4-part system that makes it easy to kick sugar, regain control, drop fat, and get more energy – all in 30 days or less!
In fact, it's my most popular kick-sugar system called 30 Days to No More Cravings™. Developed years ago, its relevance hasn't changed, and you can get your own copy and get started ASAP by clicking here!
Normally $97, it's 50% off until this Friday! NOTE: You must use coupon code 30DAYSFALL50 to claim your half-off savings!
30 Days to No More Cravings™ has revolutionized the lives of so many of my clients. Clients just like you, who have stubborn weight they can't get rid of, can't stop craving sugar, are worried about what it's doing to their health, and feel hopeless about it.
Angela, if you only knew all the ways sugar keeps you addicted you'd never blame yourself for binging or overeating again, or your lack of willpower! (Hint: It has nothing to do with willpower!)
Here's what it's doing to you that you might not even realize, aside from everything else it does:
• Sugar causes inflammation, 1 of the 5 root causes of illness
• Sugar has been linked to cancer
• Excessive sugar consumption leads to hypoglycemia and diabetes
• Sugar zaps collagen from your skin which causes wrinkles
• Sugar causes premature aging
• Sugar suppresses immune system function
• Sugar weakens eyesight
• Sugar feeds Candida
• Sugar can lead to alcoholism
• Sugar makes you fat
• A consistent diet of highly refined sugars and carbs taxes the pancreas
• Sugar affects mood
What's more, it's in absolutely everything! It's virtually unavoidable, making it harder than you think to just simply "give it up."
In this program, I walk you through the A-Z's of how to stop sugar cravings without feeling deprived, hungry or like you have to white-knuckle it to get through it. FYI I am not about cutting sweet, just sugar. See for yourself!
Remember, use coupon code 30DAYSFALL50 to claim your 50% off savings!
Everyone wants to get off sugar, but they can't seem to on their own, but I make it easy on you in my step-by-step, all-in-one, easy-to-follow system that anyone can do, no matter where you live, work or play.
Imagine if you were finally able to call a cease fire with sugar and banish your sugar cravings for good? Now you can, with my best-selling 30 Days to No More Cravings™ kick-sugar system!
But hurry! My half-off sale ends Friday @12 midnight EST. It's the perfect sale for the season.
Love,
Angela